Could you deliver these Programmes in your area?


NOW OFFERING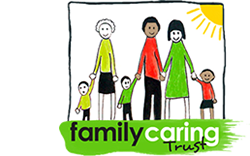 Family Caring Trust
Initial Facilitator Training
For 0-5 years, 5-15 years & Teenage programmes
So you can support family life in your community
For over two decades, the Family Caring Trust's resources have been among the most popular
universal parenting materials in Britain and Ireland - over half a million parents have experienced
at least one of their courses run by social services, councils, community or church organisations.
Aligned to the National Occupational Standards for Working with Parents,
the Initial Facilitator Training aims to introduce the values, ethos, theoretical,
evidence base and content of Family Caring Trust programmes as well as
an experience of programme content and the processes necessary to become a reflective practitioner.
This level of training leads to registration as a Family Caring Trust Facilitator.
The one-day course will prepare you with the theory and skills to start delivering
courses in your community and provide you with a comprehensive programme kit
(including facilitator's manual, script and DVD).
After the course, your trainer will further supervise and assist you with the delivery of at least
one of the six programmes covered during the course and on completion of successful
delivery of one of the FCT group programmes you will receive your registration card.
You may already possess accredited skills/ transferable learning or tutor experience and
the Initial Facilitator Training Programme has been developed with this in mind.
Further accredited qualification is available if required.
If you would like to take part in the next Initial Facilitator Training Event,
contact Mary McCartan, Facilitator Trainer in Ireland and Northern Ireland
Mary Mc Cartan, LEGACY Inter-generational Family Solutions
M: 44 (0) 7733100656 | T: 44 (0) 28 82244142
E-mail: mary@createalegacy.org
Or visit www.familycaring.co.uk for more information of Nationwide Trainers
UPCOMING TRAINING DATES
DATES 2014
Saturday 8th March 10am-4.30pm Omagh
Thursday 27th March 4pm -10pm Omagh
Friday 4th April 10am-4.30pm Charlestown, Mayo
Saturday 5th April 10am-4.30pm Galway
Monday 14th April 10am-4.30pm Omagh
Friday 18th April 10am-4.30pm Omagh
Wednesday 23rd April 2pm-9pm Omagh
The cost of Initial Facilitator Training is £195 (€235) per participant, including lunch,
a choice of programme kit, one supervised session & registration fee.
(Funding maybe available to your group from various Charity & Statutory sources.
Training can be delivered anywhere on the island of Ireland for groups of 5+. (Group Discount)
If you would like to be alerted to the next training in your area, please register your interest with LEGACY:
Facilitator's Training using Family Caring Trust Programmes
Family Caring Trust's programme kits contain everything needed to deliver a course of skill-based
support to parents, couples and young adults. Since both facilitators and group participants benefit
when facilitators have access to training and support, Legacy and the Family Caring Trust offer two
levels of training.
An Initial Training (1 day) and the successful delivery of a course with supervision.
Initial Training leads to
registration
as a Family Caring Trust Facilitator on completion of successful
delivery of a Family Caring Trust group programme.
Registered Facilitators can
undertake further Accredited Training to Level 3 standard.
An Open College Network Level 3 accredited training course in Skills for Leading Parenting Programmes
(10 sessions or 20 Guided Learning Hours)